Dar es Salaam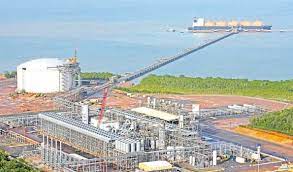 File
President Samia Suluhu Hassan's administration wants construction completed in 2028. Government negotiating terms with companies including Equinor.
Tanzania plans to begin the construction of a delayed $30 billion liquefied natural gas project in 2023, following the resumption of talks with companies including Equinor ASA.
Construction is expected to take about five years, Energy Minister Medard Kalemani told lawmakers on Thursday.
The project gained momentum after President Samia Suluhu Hassan took office in March, and directed her administration to fast-track delayed investments. Plans for an LNG plant on Tanzania's southern coast and a pipeline connecting offshore fields have been under consideration since 2014. Talks, however, stalled for more than a year under Hassan's predecessor John Magufuli.
The announcement on construction of the project comes months after Total SE suspended work on a similar plan in neighboring Mozambique following insurgent attacks. Tanzania's project, which has lagged Mozambique, is set to benefit from Hassan's push to boost investment and accelerate economic growth in a nation where policy uncertainty had stifled business.
Talks Resume
Hassan ordered the resumption of negotiations with the companies in May, about four months after Equinor's decision to take a $982 million impairment on the project following failure to settle fiscal and commercial terms with Tanzania.
"We expect to conclude negotiations for a host government agreement and review production sharing agreements" by the end of June 2022, Kalemani said. The government has finalized compensation procedures with more than 600 residents of the southern Tanzanian town of Lindi to pave way for the project, he said.
Tanzania and the companies are discussing a proposed two-train onshore LNG plant to export gas from the East African nation. Other project partners include Royal Dutch Shell Plc, Exxon Mobil Corp., Sophi Energy Ltd. and Pavilion Energy Pte Ltd.
Separately, the government is building a pipeline network to connect and distribute gas to more than 10,000 homes and factories, mostly in the commercial hub of Dar es Salaam, Kalemani said.
Tanzania and Mozambique have for more than a decade been sub-Saharan Africa's foremost gas frontier-investment destinations after explorers found more than 100 trillion cubic feet of the resources in their territories. Mozambique's projects, with companies including Total, Eni SpA and Exxon Mobil and a projected investment of at least $60 billion, are threatened by an insurgency in the nation's gas-rich regions.
More Info Tanzania May Start Building $30 Billion LNG Project in 2023