Kampala.
21st May 2021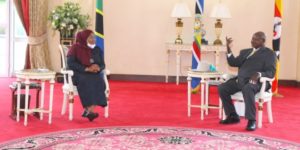 File
Tanzania has signed a Host Government Agreement (HGA) with a Total-led joint venture to launch the East African Crude Oil Pipeline Project (EACOP).
The EACOP project forms part of the wider $3.5bn Lake Albert resources development project in Uganda and Tanzania.
The signing of the HGA follows the final agreements made in April 2021 by Total and its partners.
These include shareholders agreement of EACOP and the tariff and transportation agreement between EACOP and the Lake Albert oil shippers.
The latest HGA establishes the legal and commercial framework for the project's financing, construction, and operation.
Commenting on the project, Uganda President Yoweri Museveni said: "The pipeline is a very important regional project, Tanzania and Mozambique you have gas and the corridor can be used to take another pipeline for gas to help countries in the great lakes region with the resource."
The EACOP project aims to connect the oil fields around Lake Albert in Uganda to supply up to 216,000 barrels of crude oil a day to Tanzania's export terminal in Tanga.
Total, the government-owned Uganda National Oil Company (UNOC), Tanzania Petroleum Development Corporation (TPDC), and China's CNOOC will be shareholders in the EACOP project.
The first oil export from the project is expected to take place in early 2025.
The oil pipeline will run from the future Kabaale Industrial Park in the Hoima district of Uganda to the Chongoleani peninsula near the Tanga Port in Tanzania.
The Lake Albert project also includes Tilenga and Kingfisher upstream oil projects in Uganda along with the construction of the EACOP in Uganda and Tanzania.
More Info Tanzania signs host agreement for East African oil pipeline project